Damon® System braces –– A world without elastic ties!

Damon braces use a specialized slide in place of elastics to help the wire guide teeth into place. These slides help reduce the amount of pressure being placed on the tooth. As a result treatment with the Damon System is often faster and requires fewer adjustments than traditional braces.



The Damon System facilitates healthy tooth movement which may minimize discomfort and create beautiful Damon Smiles that last a lifetime! Braces are the beginning!
The Damon System is not just about revolutionary braces and wires; it's a whole different approach to treating patients.
Technology
Damon passive self–ligating braces eliminate the need for elastic or metal "ties." With Damon tie–less braces you can experience treatment without tightening.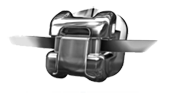 Treatment Time
While the time needed in braces will vary from case to case, treatment time with the Damon System is typically much faster than with conventional braces. Also, far fewer appointments are required during treatment, making your Damon experience convenient and hassle–free.
Comfort
Even though the Damon System works so quickly, the use of gentle, low– friction force means less discomfort for you. Very light "shape memory" titanium wires are used, gently guiding your teeth to their ideal position.
Convenience
Damon braces are designed to be discreet, comfortable, and easy to keep clean. Without the elastic ties, which attract and collect plaque, Damon braces make dental hygiene easy during treatment. Plus, the Damon System is available in clear brackets for patients who want a great smile without sacrificing aesthetics.